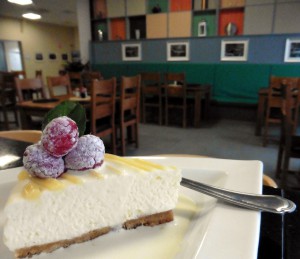 In 2007 Caroline Gardener, Aviation Park Group Managing Director, opened up a new catering outlet at Hawarden Airport and with the addition of Head Chef James Powell they quickly built up a thriving business to meet the culinary needs of local businesses. 2012 saw Chocks Away Diner expand into the newly built General Aviation Centre at Hawarden Airport to extend the current service while refining their quality.
James' wealth of culinary experience was gained from time spent in France, Austria, USA, and aboard private yachts. In the UK James has worked in London's prestigious Savoy Hotel under Anton Edelmann, The Berkeley Hotel and Anton Mosimann's Private Dining Club in Mayfair, and closer to home in The Arkle Restaurant at The Chester Grosvenor. James joined Chocks Away Diner with a vision to work alongside Caroline in building a diner with a fantastic reputation for food by using locally sourced ingredients and serving great tasting food.
In 2015 we enhanced the overall customer experience by upgrading the diner with a more contemporary feel and elaborating on the history of the airport whilst also opening a viewing terrace to get closer to the action. 2017 has been a milestone year for Chocks Away Diner, as the volume of customers visiting us has been considerably higher than ever before, with this Chef and his team meeting the challenge by keeping their standards exceptionally high. For their hard work & efforts, the Diner has been awarded a prestigious 'Certificate of Excellence' by online review giants Trip Advisor, which is a superb accomplishment by the team.
The future of Chocks Away Diner remains bright as we continue to use local produce and support local businesses, as this helps us to create new and on-trend menus. With our current menu being revised in October 2017 we continue to follow the aviation theme at Chocks Away Diner, and will soon be recreating our second room with some real life aircraft features and décor to enhance the overall ambience that we feel will be a huge success.
Finally, the team at Chocks Away Diner would like to thank all of our very loyal customers new and old for continuing to visit and enjoy the culinary & aesthetic experience provided by us. You have made it possible for us to become the thriving business we are today by continuing to support us in the diner and online through our ever popular social media sites where we also thrive. Chocks Away Diner will continue to strive to be the best, keeping our focus on well-cooked fresh food, offering great customer satisfaction and experience.
Scroll down to meet our team…
 Our Staff:

Head Chef: James Powell
James is a hard working and dedicated chef who has a vast wealth of experience from all around the World and from some of the finest eateries and hotels within the UK.
Outside of the kitchen, James enjoys road cycling/racing and generally life outdoors with his wife and son and his dogs.
In James' case it's not 'Who ate all the pies?' it's 'Who ate all the cake!?' He's a strong leader and loves to bake but if your cake goes missing, ask the Chef!

Adrian Smith
Known as the 'Adi-ator'.  Adi joined us in October 2013 from a long standing job in another quality local establishment. Adi works endlessly 'in the back room' to ensure that everything is tip-top and ready to go.
As long as there is coffee on the go and the odd fried egg and onion butty – Adi is your man and won't let you down.

Sian McKinney
Sian has been with us for some time now after graduating from catering college back in 2010. Sian works consistently and closely alongside head-chef James to ensure the smooth running of the business in particular customer relations and organising the admin side of things.
Sian is very reliable and likeable member of the team – all be it noisy in the mornings!

Sherry Brown
 Our newest recruit – Joining us in 2014, Sherry has already 'found her feet' and slotted into the  kitchen nicely. As the business grows & expands, it is likely so will Sherry's role within the set up.
Sherry is naturally well mannered and has a good nature about her and this shows with customers   as she has built up a good rapport with many of the regulars.
Sherry enjoys 'feeling the bass' and can often be found strutting her moves in the back room!